Founder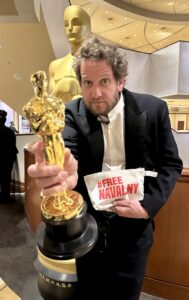 Langdon F. Page was born in Colorado and began filmmaking as founding editor of the documentary series "Los Patiperros" for TVN Chile in 1996.
He has since produced & edited documentaries and features in Rome, Cairo, New York, Los Angeles, London, and Santiago including:
"NAVALNY", winner of the 2023 Academy Award/Oscar for Best Documentary Feature, B.A.F.T.A., P.G.A., Social Impact Media Award for Best Editing, among numerous other awards;
Showtime's "Detainee 001", entirely edited in Chile during Covid lockdown.
"The Cost of Silence", which premiered in competition at Sundance 2020;
Oliver Stone's "Persona Non Grata" and "Looking For Fidel";
Abel Ferrara's "Chelsea on the Rocks" and "Mary," winner of the Venice Film Festival Special Jury Prize;
Discovery's Peabody Award-winning "Black Sky: The Race for Space";
HBO's "Koran By Heart" and "The Strange History of Don't Ask, Don't Tell," among others.
His films have played at the Cannes, Venice, Toronto, Sundance, Telluride, Tribeca and other film festivals, on HBO, National Geographic, Discovery, Netflix, and in cinemas, schools, universities, churches, and mosques worldwide, and for the U.S. Council on Foreign Relations.
In late 2011, Langdon was awarded an innovation grant from StartUp Chile to launch a global filmmaking company in Santiago, Chile: Money Puzzle Media.
Monkey Puzzle Media's first successful 'remote collaboration' was editing from Chile with L.A. directors Fenton Bailey and Randy Barbato on HBO's "In Vogue: The Editor's Eye" which premiered in December, 2012, at the New York Metropolitan Museum of Art before a successful run on HBO.
In 2013, Langdon co-edited the controversial Chilean feature "El Tio"— winner of the Jury Prize at the Biarritz Film Festival, and blacklisted in Chile. He then associate produced/co-edited the feature documentary "Salinger", which premiered at Telluride, then played in theaters, streamed on Netflix, and was broadcast on PBS as the 200th episode of American Masters in January, 2014.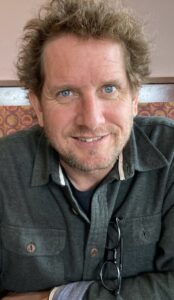 2015 returned Langdon to his frequent collaboration with Bailey and Barbato on the HBO bio-doc of controversial photographer Robert Mapplethorpe, "Mapplethorpe: Look at the Pictures", which premiered at Sundance and was nominated for the 2016 Emmy Award for Best Documentary.
Langdon joined forces again with Greg Barker to create an intimate portrait of President Obama's Foreign Policy team, "The Final Year", which premiered at TIFF 2017 and was the Opening Night Film of DOC NYC 2017.
Langdon is currently developing projects in Chile, the U.S., and Europe.